The New Film Company's exciting sailing films
for the active or the armchair sailor.
Sailing and ocean racing: Dodge Morgan, the STAR (Singlehanded TransAtlantic Race), the Two-STAR (Doublehanded TransAtlantic Race), the BOC Challenge, the Around Alone Race, Outward Bound. Boat building: the Friendship sloop. As seen on PBS, Discovery, National Geographic Explorer, Outdoor Life.
To Order New Film Co. Contents What's New or back to KathrynLasky.com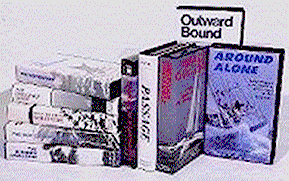 Award-Winning
Sailing
and
Adventure
Films on DVD and VHS
And our documentary on Joan Baez: CARRY IT ON

AMERICAN CHALLENGE: Alone Against the Atlantic
"The best film about yacht racing ever made."
Puts you on board with 6 single-handed sailors
in a thrilling Transatlantic Race.
56-minutes: DVD $24.95 for home use
Dodge Morgan's inspiring at-sea journey, making
him the first American to sail solo, non-stop
around the world.
57-minutes: DVD $24.95 for home use
Click to see a preview!
The dramatic story of the Second BOC Challenge.
Sailors tested to their limits in a 27,000 mile race
alone around the world.

53-minutes: DVD $19.95 for home use
A salty and beautifully photographed film of the
building and sailing of a classic boat.
28-minutes: DVD $24.95, for home use
A close-up view of people testing their limits
on the sea-adventure course at Hurricane Island
off the coast of Maine.
28-minutes: DVD $19.95, group or home use
Exciting video of The First BOC Challenge, the
most treacherous sailing race ever devised.
58-minutes: DVD $19.95, for home use
Environmental and Gerontology Education Programs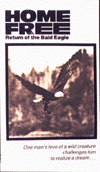 HOME FREE: RETURN OF THE BALD EAGLE
"Easily one of the most beautiful films about birds
ever made." Library Journal
One man's love of a wild creature challenges him
to realize a dream.
29-minutes: DVD $24.95 group or home use
In the 1990's striped bass were declining at an alarming rate along the East Coast. This film documents the efforts of scientists, journalists and concerned citizens to solve the mystery of this decline and serves a model of our need to come to terms with the delicate environmental balance that sustains us all.
52-minutes: VHS video $39.95, group or home use
"A beautiful, thoughtful film ... full of humor and love."
Film Library Quarterly
Intimate portraits of seven elderly Blacks of varying backgrounds and life experiences.
28-minutes: VHS video $49.95, group or home use
EVERY DAY COUNTS: SECOND CAREERS AFTER 65
Profiles of 6 retirees who have begun new pursuits. Their courage and resourcefulness demonstrate the unique contributions that the elderly can and do make after leaving the work world. An inspiration for audiences of all ages particularly retirees whose potential is too often untapped.

14-minutes: VHS video $29.95, group or home use
---
To Order New Film Co. Contents What's New
We welcome your inquiries and comments
The New Film Company, Inc.,
88 Waite St.
Providence, RI
02908, U. S. A.
Phone:‭(617) 285-9532‬ Fax: 617/491-9201
E-mail: newfilmco@aol.com
---
© 2001 The New Film Company, Inc. All rights reserved.
Revised: May 08, 2019