The New Film Company's Exciting Adventure Films -- seen on PBS, Discovery, National Geographic Explorer, and Outdoor Life.
Sailing and ocean racing: Dodge Morgan, the STAR (Singlehanded TransAtlantic Race), the Two-STAR (Doublehanded TransAtlantic Race), the BOC Challenge, the Around Alone Race. Boat building: the Friendship sloop. Outward Bound.
---
To Order
Video List
New Film Co.
Contents
Home Page
What's New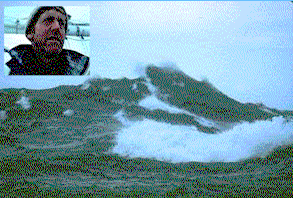 THE ULTIMATE CHALLENGE
The First BOC Around Alone Race
58-minutes, DVD
Personal home use: DVD: $19.95
Classroom/organizational use: $79.95
Seventeen sailors set out from Newport, Rhode Island at the start of the First BOC Challenge -- a solo race around the world that would take at least 8 months to complete.
THE ULTIMATE CHALLENGE gives an inside view of what happened during this 27,000-mile race around the world -- the longest, most treacherous solo yacht race ever devised . Each sailor is tested to the limits of his skills and ingenuity and must find the will to survive and the courage to continue. Loneliness, fear, fatigue, gear failure, capsize, injury, illness, equatorial heat, dead calms, Antarctic ice, gales in the Roaring Forties: all these are only part of their adventure. Viewers see two dramatic at-sea rescues made by fellow sailors and orchestrated by ham radio operators. Only ten of the seventeen cross the finish line, but for each it is an ultimate victory.
"Filmed against the changing moods of the southern oceans, this celebration of the human spirit pits men against the elements and against their fellows in a nine month, 27,000 mile, solo sailing race around the world." Booklist, Editor's Choice
"A very professional and penetrating look at single-handing...For action, adventure and drama, THE ULTIMATE CHALLENGE is hard to beat." Sailing Magazine
To ORDER FORM
Awards and Exhibitions
PBS
The Discovery Channel
The Outdoor Life Channel
---
---
To Order DVD/Video List New Film Co. Contents Home Page What's New
We welcome your inquiries and comments
The New Film Company, Inc.,
88 Waite St.
Providence, RI
02908, U. S. A.
Phone:‭(617) 285-9532‬ Fax: 617/491-9201
E-mail: newfilmco@aol.com
---
© 1997 The New Film Company, Inc. All rights reserved.
Revised: May 10, 2019