The New Film Company's Exciting Adventure Films -- seen on PBS, Discovery, National Geographic Explorer, and Outdoor Life.
Sailing and ocean racing: Dodge Morgan, the STAR (Singlehanded TransAtlantic Race), the Two-STAR (Doublehanded TransAtlantic Race), the BOC Challenge, the Around Alone Race. Boat building: the Friendship sloop. Outward Bound.
---
To Order
DVD/VIDEO LIST
New Film Co.
Contents
Home Page
What's New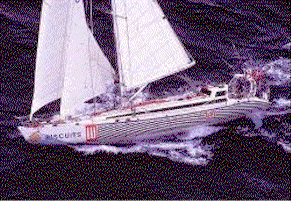 THE BOC CHALLENGE
1986-87
53-minutes, DVD
Personal home use: DVD: $19.95
Classroom/organizational use: $79.95
"The wave just kept rising. It took the boat and turned it right over. When it came back up, I wasn't on board anymore. It took me 10 seconds to pull myself back."
Harry Harkimo, Finland
THE BOC CHALLENGE: the longest, most treacherous solo yacht race ever devised: 27,000 miles around the world in 4 legs from Newport to Cape Town, Sydney, Rio de Janeiro, and back to Newport. Each sailor is alone and tested to the limits of his skills, stamina, ingenuity, and courage.
Twenty-five competitors reach the starting line on a calm August day, a calm which soon dissolves into a battle with the world's most grueling element: the sea. This is the story of their adventures as they face severe winds, powerful waves, gear failures, injuries, and exhaustion: all while racing against unseen competitors.
The race takes them to a region where nature is without mercy -- the Southern Ocean. Waves tower as high as 100 feet, knock-downs are common, and drifting icebergs are silent threats. Some drop out as their boats buckle under the punishment. With the tragic loss overboard of sailor Jacques de Roux, each must come to terms with the race's true challenge: survival. Eight months after the start, Philippe Jeantot of France wins for the second time; but each competitor who returns to Newport earns the thrill of achieving an ultimate goal in yacht racing.
"This 53-minute video with excellent editing, narration and musical scores, presents the whole race in an enthralling package." Sailing Magazine Review
---
---
To Order DVD/Video List New Film Co. Contents Home Page What's New
We welcome your inquiries and comments
The New Film Company, Inc.,
88 Waite St.
Providence, RI
02908, U. S. A.
Phone:‭(617) 285-9532‬ Fax: 617/491-9201
E-mail: newfilmco@aol.com
---
© 1997 The New Film Company, Inc. All rights reserved.
Revised: May 08, 2019