The New Film Company's Feature Documentary
CARRY IT ON
.
To Order DVD/Video List New Film Co. Contents Home Page What's New
CARRY IT ON

Starring Joan Baez

80 minutes, black & white, includes 13 songs

Price: $24.95 plus shipping (see order form for rates)

To order via phone: 617-285-9532
To order via fax or mail using our order form: To Order
A rare feature documentary recently re-released after 30 years, CARRY IT ON brings the viewer into the powerful emotional and political currents of the late 60's as seen through the eyes of folksinger Joan Baez and her then husband David Harris, a student organizer and leader of the draft resistance movement.
"Surprises and stuns through its extraordinary intimacy." Time Magazine
"One of the major documentaries of our time." Morning Telegraph
"An extraordinary film." The New York Times
| | |
| --- | --- |
| | The film follows the couple in the days leading up to David's arrest for refusing induction into the U.S. Army and documents his being taken into custody to begin a three-year prison sentence. |
| | |
| --- | --- |
| Pregnant and reeling from the emotional upheaval in her personal life, Joan is about to embark on a musical tour of protest during the tumultuous summer of 1969. | |
The tour takes her to major cities and venues in the U.S. and Canada including Woodstock and features live recordings of 13 major songs including Bob Dylan's classic, I Shall be Released. With her extraordinarily beautiful singing voice and vibrant personality, Joan delivers her powerful message.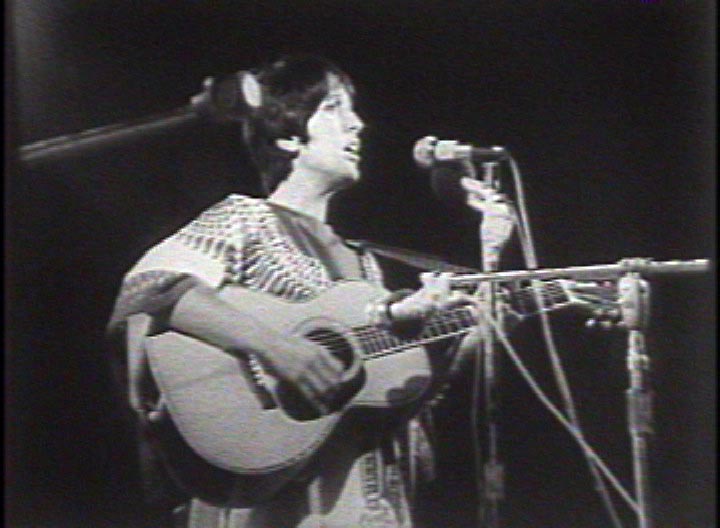 | | |
| --- | --- |
| The viewer gets a unique behind- the-scenes view of Baez in intimate and personal moments as the outspoken singer meets with local political groups as well as admiring fans. | |
A poignant film with a newfound resonance in today's political climate, Carry It On was hailed as a "major film achievement which will linger in the mind's eye for some time." (Motion Picture Daily, 1970)
---
To Order DVD/Video List New Film Co. Contents Home Page What's New
We welcome your inquiries and comments
The New Film Company, Inc.,
88 Waite St.
Providence, RI
02908, U. S. A.
Phone:‭(617) 285-9532‬ Fax: 617/491-9201
E-mail: newfilmco@aol.com
---
© 1997 The New Film Company, Inc. All rights reserved.
Revised: May 10, 2019.