The New Film Company's Exciting Adventure Films -- seen on PBS, Discovery, National Geographic Explorer, and Outdoor Life.
Sailing and ocean racing: Dodge Morgan, the STAR (Singlehanded TransAtlantic Race), the Two-STAR (Doublehanded TransAtlantic Race), the BOC Challenge, the Around Alone Race. Boat building: the Friendship sloop. Outward Bound.

To Order DVD/Video List New Film Co. Contents Home Page What's New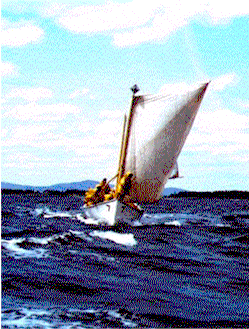 OUTWARD
BOUND
The Hurricane Island Outward Bound School
27-minutes
DVD: $19.95
"We are better than we know. If we could only be made to see it, we'd be unwilling to settle for anything less."
"Can I do it, can I really do it? Do I have the physical power? Do I have the mental power?"
Outward Bound Participants
On a small boat off the rocky coast of Maine, eight Outward Bound students stare into thick, unrelenting fog. Can they navigate safely to land by nightfall? For 10 days they face a variety of challenges: climbing up and rappelling down an 80 ft. cliff, taking a daily early-morning plunge into icy waters, working together with people of differing ages and backgrounds, filming their own 3-day solo experiences. It will take a combination of newly learned skills and risk-taking, self-trust and teamwork, courage and perseverance.
OUTWARD BOUND gives an intimate view of people testing their limits; sharing their thoughts and feelings; becoming part of the action, the fun, the discomforts, the victories. This film portrays the experience that makes each Outward Bound course a unique personal adventure.
* * * * * * * * * * * *
Outward Bound is a non-traditional outdoor education program designed to bring out the best in people. In a safe, yet challenging environment, it provides a powerful and positive channel for personal growth. Through direct hands-on experiences, students learn new skills, extend themselves physically and mentally, work cooperatively with others, and gain a sense of self-esteem and achievement.
Awards and Exhibitions
National Geographic Explorer
---
To Order DVD/Video List New Film Co. Contents Home Page What's New
We welcome your inquiries and comments
The New Film Company, Inc.,
88 Waite St.
Providence, RI
02908, U. S. A.
Phone:‭(617) 285-9532‬ Fax: 617/491-9201
E-mail: newfilmco@aol.com
---
© The New Film Company, Inc.
Revised: May 08, 2019.