The New Film Company's Nature Films
.

To Order DVD/Video List New Film Co. Contents Home Page What's New
---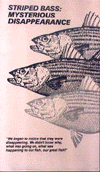 STRIPED BASS:
MYSTERIOUS DISAPPEARANCE
52-minutes, VHS video: $49.95
| | |
| --- | --- |
| "We need the money fish to survive I don't know where they get off telling you what you can do and what you can't. It's open ocean." | "We've got to consider the rights of everything that lives on earth, not just the people that live here." |
STRIPED BASS: to commercial fishermen it's been a livelihood for generations; to thousands of anglers it's a strong opponent, handsome, wily, a great thrill to catch; to scientists it's another example of a species fighting for survival in a worsening environment.
In less than 20 years, the striped bass population that once enriched America's East Coast from Maine to Florida has shrunk by an alarming 90%. Other coastal fish have also dramatically declined. What has gone wrong? The issue is a complex one; the theories, conflicting; the solutions, unknown.
While analysts use computers to chart bass populations, fishermen use strong language against bans on catching them. Scientists in Maryland battle to breed bass in captivity; yet these same fish will swim far northward to states like Rhode Island and Massachusetts where restrictions on bass fishing are bitterly debated. Researchers find bass surviving in the polluted Hudson River, even as they are declining in the crucial spawning grounds of Chesapeake Bay. Biologists monitor fragile embryos to see if acid rain from the midwest could be killing them.
In STRIPED BASS: MYSTERIOUS DISAPPEARANCE, we meet people who care deeply about this wild creature. Through their efforts to solve the mystery, we may also come to terms with the delicate environmental balance needed to sustain us all.
---
To Order DVD/Video List New Film Co. Contents Home Page What's New
We welcome your inquiries and comments
The New Film Company, Inc.,
7 Scott Street
Cambridge, MA 02138, U. S. A.
Phone: 617/520-5005 Fax: 617/491-9201
E-mail: newfilmco@aol.com
---
© 1997 The New Film Company, Inc. All rights reserved.
Revised: May 04, 2012.