What's New at New Film Company
To Order DVD/Video List New Film Co. Contents Home Page What's New
---
A fundraising video for Windward Isles Sailing Ship Company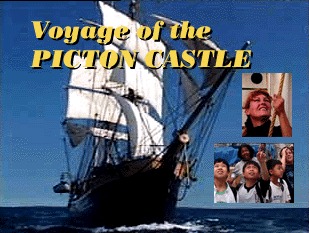 Voyage of the PICTON CASTLE introduces the newest tall ship in the exclusive fraternity of deep sea square riggers. During the last 18 months she was converted from a freighter to a barque in Lunenberg Nova Scotia by an adventurous team led by Captain Dan Moreland.
Now she is voyaging round the world with 34 paying crew, carrying cargo between ports in the tradewinds, and keeping in touch with classrooms in Boston and Andover via the internet. The video is helping raise funds for the educational effort, and giving prospective voyagers a glimpse of this handsome vessel. Check what's happening now by visiting the Picton Castle website.

BOATWORKS is a new PBS series for and about people who love boats and being on the water.
Click for details on the 10 segments produced by New Film Company
---
To Order DVD/Video List New Film Co. Contents Home Page What's New
We welcome your inquiries and comments
The New Film Company, Inc.,
7 Scott Street
Cambridge, MA 02138, U. S. A.
Phone: 617/520-5005 Fax: 617/491-9201
E-mail: newfilmco@aol.com
---
© 1997 The New Film Company, Inc. All rights reserved.
Revised: May 04, 2012.