The New Film Company's Exciting Adventure Films
-- seen on PBS, Discovery, National Geographic Explorer, and Outdoor Life.
---
To Order
DVD/V
ideo List
New Film Co.
Contents
Home Page
What's New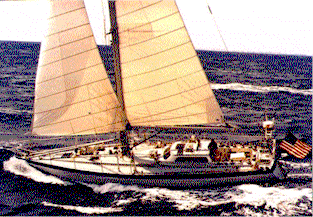 AROUND ALONE
Dodge Morgan's singlehanded, record-breaking dream
58-minutes, DVD
Click to see a preview!
Personal home use: DVD: $24.95
Classroom/organizational use: $99.95
"I believe that it's our duty to reach as far as we can reach, to extend the edge of our capabilities in some way no matter the cost."
Dodge Morgan
Fifty-three year old businessman Dodge Morgan had made a promise to himself: one day he would attempt what few others have dared -- to sail around the world without stopping and alone. This inspiring adventure story shows how he realized that dream aboard "American Promise".
Using automatic cameras, Dodge films his own at-sea journey. The viewer is his only confidante as he confronts his fears and copes with loneliness, gear failures, fierce gales, the mountainous seas of the Southern Ocean, the frustrating days of no wind and no progress. Totally isolated and dependant on himself for survival, he is forced to find new emotional strength to persevere. Dodge Morgan's determination brings him home victorious after 150 days at sea. He shatters the old record and becomes the first American to sail solo, non-stop around the world. This film celebrates the fulfillment of his promise.
Awards and Exhibitions
PBS "Adventure Series", Premiere Program
American Film Festival Finalist
CINE Golden Eagle
---
---
To Order DVD/Video List New Film Co. Contents Home Page What's New
We welcome your inquiries and comments
The New Film Company, Inc.,
88 Waite St.
Providence, RI
02908, U. S. A.
Phone:‭(617) 285-9532‬ Fax: 617/491-9201
E-mail: newfilmco@aol.com
---
© 1997 The New Film Company, Inc. All rights reserved.
Revised: May 10, 2019