The New Film Company's Exciting Adventure Films -- seen on PBS, Discovery, National Geographic Explorer, and Outdoor Life.
Sailing, ocean racing, at-sea filming, boating, boat building, navigation, canoeing, wilderness travel.

To Order DVD/Video List New Film Co. Contents Home Page What's New

Wilderness Adventure in Siberia
56-minute color video
"The idea started innocently enough...I just wanted to go
on a canoe trip and catch one of those Siberian blue trout."
Robert Perkins
KAMCHATKA, SIBERIA - a remote land of stunning natural beauty. As Russia opens its doors, nature writer/adventurer Robert Perkins is the first American to enter this territory which has been kept strictly off-limits to all foreign travelers since World War II. With his host, Russian wildlife photographer Vasily Peskov, Perkins' remarkable adventure takes him canoeing on a precarious, log-jammed river; climbing to the top of an active volcano; cruising the jagged Pacific coastline, rich in marine wildlife; hiking the untouched Kronotsky wilderness preserve with its snow-clad mountains, bubbling craters, pristine lakes and waterfalls.
He meets Russians whose love for their culture and their land make them dedicated to preserving their traditions and the environment - from an architect who, despite threats from the authorities, is recreating a stately church in his village; to fishermen who resist a plan to dam their major salmon river; to a tribe of wandering Koryak reindeer herders, still living in the traditional ways of their ancestors. Beautifully photographed, YANKEE IN KAMCHATKA immerses the viewer in an extraordinary cross-cultural journey that brings to life a previously unfilmed world.
"Breathtaking vistas and stirring adventures make this a wonderful choice for both and active canoeists and armchair travelers." Booklist
"Expertly condensed into 56 minutes of spectacular scenery and charming encounters with the Russians... Production values, photography, and editing are uniformly excellent." Library Journal
"A fascinating and eye-opening look at an unusual subject...the informal narrative style and technical excellence make this film a winner." American Film & Video Festival
"Excellent and unusual documentary. Highly recommended. Editor's Choice." Video Librarian
"This is a sharply lensed, well-produced video replete with telling details." Wilson Library Bulletin
Awards and Exhibitions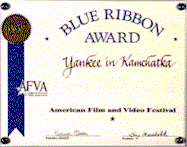 PBS "Adventure Series"
American Film & Video Festival, Blue Ribbon
"4 Stars. Editor's Choice", Video Librarian
---
---
To Order DVD/Video List New Film Co. Contents Home Page What's New
We welcome your inquiries and comments
The New Film Company, Inc.,
7 Scott Street
Cambridge, MA 02138, U. S. A.
Phone: 617/520-5005 Fax: 617/491-9201
E-mail: newfilmco@aol.com
---
© The New Film Company, Inc.
Revised: May 04, 2012.