The New Film Company's Exciting Adventure Films -- seen on PBS, Discovery, National Geographic Explorer, and Outdoor Life.
Sailing and ocean racing: Dodge Morgan, the STAR (Singlehanded TransAtlantic Race), the Two-STAR (Doublehanded TransAtlantic Race), the BOC Challenge, the Around Alone Race. Boat building: the Friendship sloop. Outward Bound.
To Order DVD/Video List New Film Co. Contents Home Page What's New
Into the Great Solitude
A Solo Canoe Journey to the Arctic Ocean
57-minutes color video
"I think a story should be a personal thing, not just an account of one day after the next. Those are just the facts. Life is what happens between the facts."
Robert Perkins
In his unique and intimate film journal, Robert Perkins brings alive the barren Arctic tundra. Trading a high-paying job in New York for a solo adventure in this uninhabited wilderness, he travels alone for 72 days in his canoe, Loon, along the 700-mile long Back River, one of Northwest Canada's toughest and most remote waterways.
Filming his own journey with an artist's eye and a deep sensitivity for the environment, he draws us into the open, elemental beauty of the land: its power, its fragility, its mystery. We follow him during the long hours of Arctic twilight, in encounters with wild animals, in battles with strong winds and dangerous rapids.
His isolation also takes him on an inner journey in, which he faces change and death and searches for new perspectives on his relationship with his father. With honesty, humor and insight, INTO THE GREAT SOLITUDE reveals the poetry within the adventure and affirms the resilience of the human spirt.
Awards and Exhibitions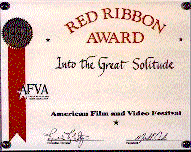 PBS "Adventure Series"
American Film & Video Festival, Red Ribbon
---
---
To Order DVD/Video List New Film Co. Contents Home Page What's New
We welcome your inquiries and comments
The New Film Company, Inc.,
7 Scott Street
Cambridge, MA 02138, U. S. A.
Phone: 617/520-5005 Fax: 617/491-9201
E-mail: newfilmco@aol.com
---
© The New Film Company, Inc.
Revised: May 04, 2012.