The New Film Company's Exciting Adventure Films -- seen on PBS, Discovery, National Geographic Explorer, and Outdoor Life.
Sailing and ocean racing: Dodge Morgan, the STAR (Singlehanded TransAtlantic Race), the Two-STAR (Doublehanded TransAtlantic Race), the BOC Challenge, the Around Alone Race. Boat building: the Friendship sloop. Outward Bound.
To Order DVD/Video List New Film Co. Contents Home Page What's New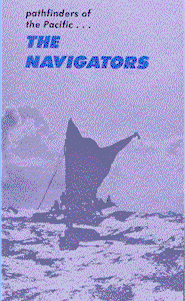 THE NAVIGATORS
Pathfinders of the Pacific
59-minutes, color video
(home use only)
"To navigate you must be brave and to be brave you must remember. If I have courage, it is because I have remembered the teachings of my father." Mau Piailug
Among the remote South Pacific Islands, Mau Piailug guides his men aboard their hand-hewn sailing canoes on long ocean passages. Without instruments or charts, he relies solely on his intricate knowledge of the sea and sky: of swells and currents, winds and weather, stars and the natural signs of birds and fish.
In THE NAVIGATORS, Mau gives us an intriguing view of his people, still immersed in the communal traditions of their ancestors and relatively independent of the modern world. On their tiny Island, Satawal, they create large ocean-worthy canoes, totally from native materials. These skills form a legacy begun thousands of years ago by daring Polynesian Explorers who travelled vast ocean distances to settle the widely scattered islands of the Pacific.
On Satawal, the people have kept this heritage alive. But with the increasing Western influence, Mau fears that the next generation will lose their unique sea knowledge. Mau and a handful of other men may be the last keepers of the ancient secrets of Polynesian navigation.
Awards and Exhibitions
PBS Special Telecast
CINE Golden Eagle
American Film & Video Festival, Red Ribbon
---
Please inquire about group and classroom use.
To Order DVD/Video List New Film Co. Contents Home Page What's New
We welcome your inquiries and comments
The New Film Company, Inc.,
7 Scott Street
Cambridge, MA 02138, U. S. A.
Phone: 617/520-5005 Fax: 617/491-9201
E-mail: newfilmco@aol.com
---
© The New Film Company, Inc.
Revised: May 04, 2012.