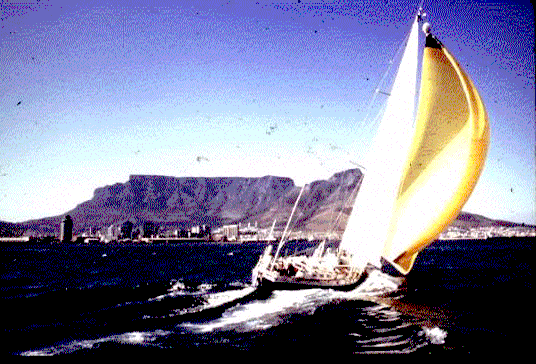 Review:
THE BOC CHALLENGE:
1986-87
Sailing Magazine
by Shimon-Craig Van Collie
Sailors and landlubbers alike can appreciate the BOC Challenge, which pits singlehanded sailors against each other as they attempt to circle the globe. This 53-minute video with excellent editing, narration and musical scores, presents the whole race in an enthralling package. Three cheers for the producers who kept in mind that entertainment is what film-making is all about.
The video chronicles the race from its historical antecedents to the start off Newport, Rhode Island, in August of l986. Twenty-five competitors, including eight from the previous BOC Challenge in 1982-1983, set out for Cape Town, South Africa, the first stop on the 4-part journey. Robin Knox-Johnston, the famous English solo circumnavigator, lends his expertise, explaining the course and strategies. No one competitor is featured in depth, which is unfortunate but the combination of aerial, sea level and on-board shots gives you a feel for the race and the conditions the sailors encountered.
The race had many moments of drama and several are captured on film. Of particular note was the fate of Jacques DeRoux, the Frenchman who won the first leg in Class 2 (boats between 40 and 50 feet in overall length). He was lost at sea on the second leg, and we see the tearful reaction of his friend and competitor Guy Bernardin upon learning the sad news. There is also the sequence of rounding Cape Horn, shot from the deck of one of the entries in 35 knots of wind and 25-foot seas. Malcolm Ironton's fantastic musical score heightens the effect.
''With a crew, it would have been a fantastic race," said one of the sailors after completing the race. "But being alone, I was scared all the time." This video makes that statement come alive.
---
---
Top of Page THE BOC CHALLENGE 1986-87 Page
To Order DVD/Video List New Film Co. Contents Home Page What's New
We welcome your inquiries and comments
The New Film Company, Inc.,
7 Scott Street
Cambridge, MA 02138, U. S. A.
Phone: 617/520-5005 Fax: 617/491-9201
E-mail: newfilmco@aol.com
---
© 1997 The New Film Company, Inc. All rights reserved.
Revised: May 04, 2012.