To Order DVD/Video List New Film Co. Contents Home Page What's New
---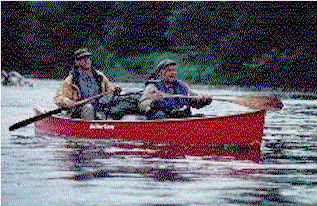 Reviews:
Library Journal
by Cliff Glaviano
This video documents the remarkable journey of Robert Perkins, an outdoor photojournalist; and Vasily Peskov, his Soviet host, as they replicate a portion of the 1860s journey of American explorer George Kennan. Perkins and his camera crew were the first foreigners to set foot on the Kamchatka Peninsula since World War II. Their seven weeks of wilderness adventure is expertly condensed into 56 minutes of spectacular scenery and charming encounters with the Russians native to the area. Production values, photography, and editing are uniformly excellent. The video captures and relates to the viewer the sensation of exploration -- the freshness and novelty inherent in being among the first privileged to experience Kamchatka's marvels in a long, long time. Interesting, rewarding, and highly recommended.
American Film & Video Festival
Jury Comments
This production makes good use of the filmed journal technique to develop a fascinating and eye-opening look at an unusual subject. The beautiful scenery combines with the marvelous background music to create a captivating atmosphere that will envelope the audience. The project allows an intimate look at a way of life, and the informal narrative style and technical excellence make this film a winner. Audience: General Uses: Recommended for library travel programs and classroom use. Awards: Blue Ribbon-American Film & Video Festival. AFVA Category: Geography. Subject Areas: Geography; Travel; Siberia; Russia.
Booklist
by Nancy McCray
Matchless Siberian landscapes and warm human relationships permeate this wildlife journey, undertaken to fulfill a childhood dream. American writer Robert Perkins, Russian wildlife photographer Vasily Peskov, and a crew of two embark in canoes, enjoy nature's delights (and frustrations), and meet fascinating people in their journey along a scenic wilderness waterway. In addition to revealing the deepening friendships of the travelers, the beautiful footage and first-person commentary describe encounters with a man whose life in a concentration camp inspired him to reconstruct an old Russian church and with a conservationist who took drastic steps to prevent construction of a dam. Breathtaking vistas and stirring adventures make this a wonderful choice for both and active canoeists and armchair travelers.
Video Librarian
by Randy Pitman
****Highly recommended. Editor's Choice .
Recently shown on PBS's Adventure series, this excellent and unusual documentary chronicles nature writer Robert Perkins' seven-week sojourn in Kamchatka, a remote area of Siberia, where he went in order to canoe down the "river from Hell." Inspired by George Kennan's 19th-century account of Kamchatka, which he read as a kid, Perkins had always hoped to visit this fabled area, and in 1990 he got his chance. Teaming up with Vasily Peskov, a Russian photographer who didn't speak English and had never canoed before, Perkins and his team began their river trip by covering a bare two miles in seven hours courtesy of logjams every few hundred yards. Not deterred, the crew combined canoeing with side trips into the local environs where they met wandering nomads herding reindeer; scaled the second largest snow-covered volcano in Kamchatka; and met a Russian architect who, despite threats from the authorities, was recreating a stately medieval church in his village. In short, they came, they saw, and it appears that they had a damn good time. Likely to appeal to nature enthusiasts as well as patrons interested in Soviet culture.
Wilson Library Bulletin
by Brad Carty
In the 1860s, explorer George Kennan became the first Yankee to penetrate the secrets of the Russian province of Kamchaka, which juts out from the coast of Siberia towards Japan. He returned with tales of exotic, nomadic tribespeople; snowcapped volcanoes; and a perilous and beautiful journey along the Kamchatka River. All of these adventures were duly recorded in his book, Tent Life in Siberia; it was here that he wrote, "when I first saw Kamchatka, it was unknown and mysterious, lonely and forbidding...." More than 125 years later, writer/adventurer Robert Perkins, inspired by Kennan' s account, made his own journey to this still mysterious land, which has been closed to foreign travelers since before World War II. YANKEE IN KAMCHATKA is the entertaining visual record of his adventure. Perkins's trip resulted from the thawing of the cold war and concomitant easing of restrictions in the then Soviet Union. It is therefore fitting that he begins his journey in Nome, Alaska at a ghostly, abandoned U.S. radar station once part of the early warning system designed to detect a Russian nuclear attack. Arriving in the Soviet Union, Perkins meets with a laughing bear of a man named Vasily Peskov, a famous Russian wildlife photographer and host of a hit television program. Acting as Perkins's host, Peskov steals the show from the less electrifying American. After a breathtaking flight over the white-streaked Siberian mountains, our heroes land in the middle of Kamchatka. Here they begin the task of tracing Kennan's journey over the Kamchatka River by canoe, a trip that time and time again confounds our preconceptions about Siberia. Among other surprises, the Kamchata River is covered with overgrown vegetation and fallen trees, like the Amazon; in one excellent sequence, the explorers must drag their canoes over land and cut through the dense underbrush in order to reach their destination. Moving into the countryside, Perkins encounters the nomads, who treat him with the same grace and hospitality their ancestors showed to Kennan. A thrilling moment occurs when a group of these hardy men rope a charging reindeer in order to trim its antlers, which prevents the deer from injuring each other. Later, atop a magnificent snow-capped volcano, Perkins asks his guide if he's ever climbed a still-active peak, only to be informed that they are standing on one! This is a sharply lensed, well-produced video replete with such telling details as an old plaque celebrating Lenin covered with volcanic ash and soot, testament to an era gone forever. By the time the film reaches its somewhat overdue conclusion, one I understands why Kennan wrote of Kamchatka, "Now, every mountain peak is associated with some hospitable village, every stream connected with some pleasant recollection."
---
Top of Page Yankee in Kamchatka Page
To Order DVD/Video List New Film Co. Contents Home Page What's New
We welcome your inquiries and comments
The New Film Company, Inc.,
7 Scott Street
Cambridge, MA 02138, U. S. A.
Phone: 617/520-5005 Fax: 617/491-9201
E-mail: newfilmco@aol.com
---
© The New Film Company, Inc.
Revised: May 04, 2012.