To Order DVD/Video List New Film Co. Contents Home Page What's New
---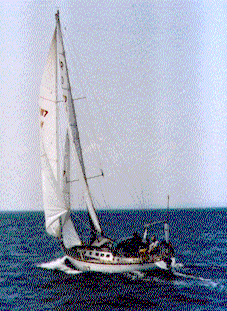 Reviews: PASSAGE
VIDEO LIBRARIAN
by Randy Pitman
****Highly recommended. Editor's Choice .
During the 18 months he was a prisoner in Dachau, Arne Brun Lie often dreamt of freedom on the ocean. In the 40 years following his ordeal, he enjoyed that freedom in his custom-built sailboat "Tresbelle". At the age of 65, after a heart attack and bypass surgery, Arne decided to try a new challenge -- the Two-Star Race, a two-person TransAtlantic race covering some 3,000 miles from Plymouth, England to Newport, Rhode Island. PASSAGE is the story of that journey...and more.
Interwoven with the footage of Arne and his racing mate, filmmaker Dave Conover, battling the heavy swells or waiting out the periods of dead calm, is footage of a different journey: the one Arne took retracing his steps from Oslo, Norway to Dachau. Captured as a resistance fighter by the Nazis at the age of 19, Arne watched his friends being taken off for execution, his life spared through an administrative goof. Later, he was shipped to Germany, where at Natzweiler, a Nazi guard told him cryptically: "The only way you get out of this camp is through that chimney." There was another way: a one-way trip to Dachau, and that is the way that Arne got out.
PASSAGE is more than just the record of a man sailing the sea, it is several journeys: across the water, across time, and across one's soul. Even with the excitement of a broken rudder, a ticking clock, and a shattered mast, it is not the journey across water that stays with you.
SAILING MAGAZINE
by Shimon-Craig Van Collie
The craggy, lined face of Arne "Bels" Brun Lie, 68, speaks of a life that has experienced both the good and the bad. This remarkable film juxtaposes his recent participation in the double-handed transatlantic race with his horrific experiences as a prisoner of war half a century ago. The sailing voyage, filled with its own trials, provides the potential for healing old wounds which Bels and thousands of others have carried inside for many years.
A member of the Norwegian resistance after Hitler invaded Scandinavia, Bels was eventually captured and spent a year in Nazi concentration camps. His inner will to survive and a good deal of luck saw him through the worst conditions imaginable, many of which he recounts on film as he revisits the sites of his captivity.
An avid sailor before and after his captivity, Bels resumed his life after the war. A heart attack and triple bypass surgery in the 1980s triggered in him the notion of racing his cruising sloop across the Atlantic, and he enlists a young, strong shipmate in David Conover for the adventure. Onboard cameras capture their life at sea and the emergencies with which they must deal. Bels also spends some time talking and reflecting on his old friends and comrades who "cry and whisper in the rigging."
The ending of the film does not climax in some Rocky-like orgy of triumph, which gives PASSAGE even more impact. This is not easy viewing, and those looking for sailing thrills will be disappointed. Instead, the story of Bels and his life voyages speaks to the heart of being human.
---
---
To Order DVD/Video List New Film Co. Contents Home Page What's New
We welcome your inquiries and comments
The New Film Company, Inc.,
7 Scott Street
Cambridge, MA 02138, U. S. A.
Phone: 617/520-5005 Fax: 617/491-9201
E-mail: newfilmco@aol.com
---
© The New Film Company, Inc.
Revised: May 04, 2012.